First day of Blooming Flowers
First day of Blooming Flowers at The Sixth Element School, Tata Primanti Branch Like fresh flowers these children have come in our class. Spreading joy and happiness with their innocence. The Little adorable darlings of parents have captured our hearts with their cute little smile and giggles.
We at The Sixth Element School, the neighborhood school for Tata Primanti, Tattvam Villas, Sector 47,49,69,51, Sohna Road, and Golf course extension road had a fun filled experience with the kids as they had an explorative day too.
Kids Enjoyed The Festivity by Painting Rangoli & Diyas
Havan – A Tradition Held on 15th April 2019 at Tata Primanti
Centuries ago, the Deva - Yagna, Homa or Havan was almost a practice. It was performed early in the morning every single day. Unfortunately, the custom has been forgotten by the new generation.
But even in this modern age, The Sixth Element at Tata Primanti. has not forgotten India's rich culture. The Havan is not merely a ritual, but a simple and a healthy process which gives us peace and quiet for a small amount of time, which we are quite unlikely to find.
In this great Homa we pray to Agni - the god of fire - to cleanse our body, mind and soul of all sins, to keep our spirits high like Agni.
The necessary things of the Hawan are - samagri, ghee, water, camphor and dry faggots. Four girls perform the Hawan, while the rest of us chant along with them. This goes class by class.
The Havan was performed on 15 th april 2019. The heat of the fire kills micro-organisms and pollutants in the air. As we all know, hot air moves up and cool breeze follows. When we feed the Agni in the Havan Kund with faggots, ghee, samagri and camphor, it crackles, bursts and
thus leaves the atmosphere fresh, clean, cool and fragrant.
We started it with the Sandhya, continue with Agni Hotra, which is followed by the Gayathri Mantra and which finally ends with the "Shanthi Padh". This was all done in the presence of our class 1 children and staff.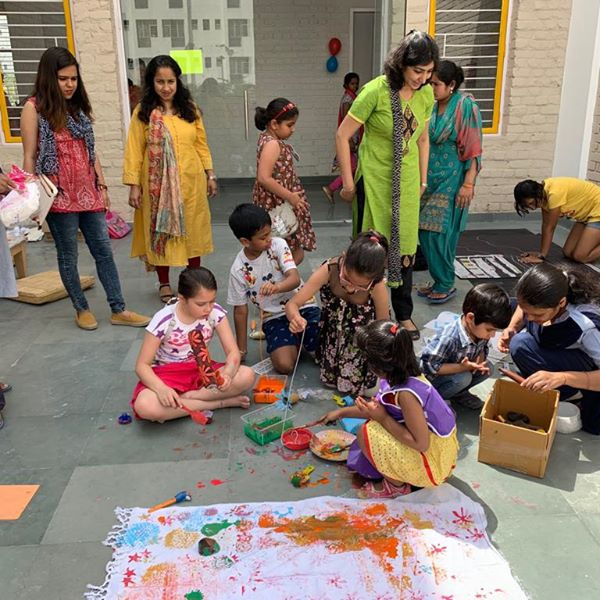 Art Attack seeks to engage children and teachers to synergize experiences ....
Our School held a very interesting colorful palette of art and pottery workshop for
children from areas likeTata Primanti, Tattvam Villas and sector 49 on 6 th April 2019.
It was surprising to see the various pieces of art work, painting of high standards. The Exhibits were attractive and colorful for they had been prepared and designed well by the students with guidance from the art teacher.
There were many sections to interest children and parents who came to participate with the children. Other items like Pottery were also admired too.